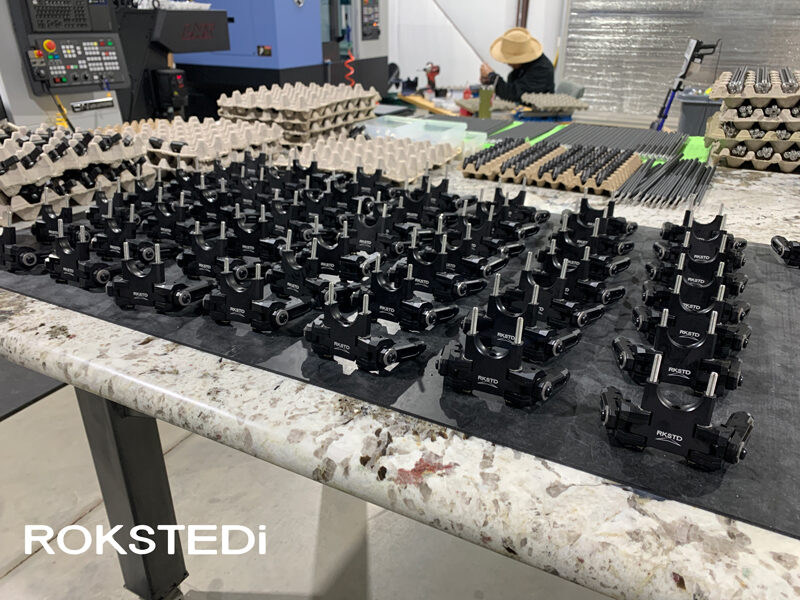 ROKSTEDi bipods are made in the U.S.A. w/ some globally sourced components.
ROKSTEDi attachments are made in the U.S.A.
We choose to be transparent with our customers because we know it matters:
Bipods are designed, assembled & packaged in Arizona.
Raw aluminum for most components are sourced from U.S.A. & machined by Saturn CNC, LLC in Yuma, AZ.
Bipod hardware is mainly sourced in U.S.A. & can be globally sourced based on availability.
Anodizing is sourced in U.S.A.
Carbon fiber tubes are currently sourced from Asia manufacture(s).
Internal bipod leg locks are sourced in U.S.A..
Bipod rubber feet covers are designed in-house & sourced to U.S.A. manufacture.
Bipod rubber feet are sourced in the U.S.A.
RKSTD branded clothing is currently purchased from a U.S.A. supplier & they globally source the clothing. We do what's called "White Labeling" which is essentially purchasing a widely made manufactured product & brand it with our logo or designs. Many generic tripods being marketed as hunting/shooting tripods are sold using this same strategy. The companies are simply slapping a logo on a generic tripod they outsourced globally, then marketing it to unknowing customers. WE BELIEVE IT'S UNETHICAL TO NOT DISCLOSE WHITE LABELING PRACTICES, ESPECIALLY IF YOUR ARE MARKETING SAID PRODUCTS WITH CUSTOM FEATURES BUILT FOR A SPECIFIC PURPOSE.
Our hats are patched by a U.S.A. company & our shirts are screen printed by a U.S.A. company.
ROKSTEDi core value(s) are to build quality innovative hunting & shooting products while striving to keep the manufacturing as well as materials used in the U.S.A. (it's our home) while being transparent with our customer(s).
ROKSTEDi Warranty is straight forward & one of the best!