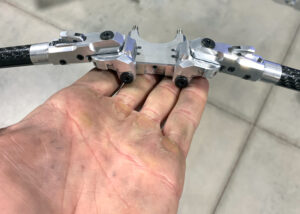 ROKSTEDi bipods & attachments are Made in the USA!
With that said, we are not to required disclose the list below but we choose to be transparent with our customers:
Bipods are designed, assembled & packaged in-house
Raw aluminum is from USA & machined by Saturn CNC, LLC in Yuma, AZ
Bipod hardware is sourced in USA & can be globally sourced based on availablity.
Anodizing is sourced to USA companies
Carbon fiber tubes & internal leg lock hardware are sourced from Asia manufacture
RKSTD branded clothing is currently globally sourced & then "White Labeled". With that said, our hats are patched by a USA company & our shirts are screen printed by a USA company.
Building a quality product is the #1 reason why we chose our manufacturing process but here is #1A:
The hunting & shooting sports industries are quiet possibly some of the most discriminated against industries in the world. With out these industries we do not have wildlife or freedom, which means we do not have a business. We believe in being transparent & sharing our process because it's the RIGHT THING TO DO.
ROKSTEDi Warranty is one of the best!