Prone Hunting Bipods built for the Mountains
Although all of the ROKSTEDi bipods will get you in prone positions, we know some serious hunters want a lighter more compact bipod for just prone purposes. Often the decision to only run a prone hunting bipod is made because the serious hunter is hunting in areas that have little ground vegetation & they are anticipating 500+ yard shots.
Whenever it's feasibly possible prone is the position you want to be in when settling the crosshairs on the animal of a lifetime. When you're finding a place to get prone you need it to be relatively flat or with minimal inclination. Ridge lines, saddles & rock outcroppings are a few places that are typically good for settling in for a long range prone shot while in the mountains. Areas you want to avoid are angled side slopes & areas with taller ground cover; shooting prone from a steep side slope can be a huge challenge. It's very important to practice from various prone positions while in varying terrain.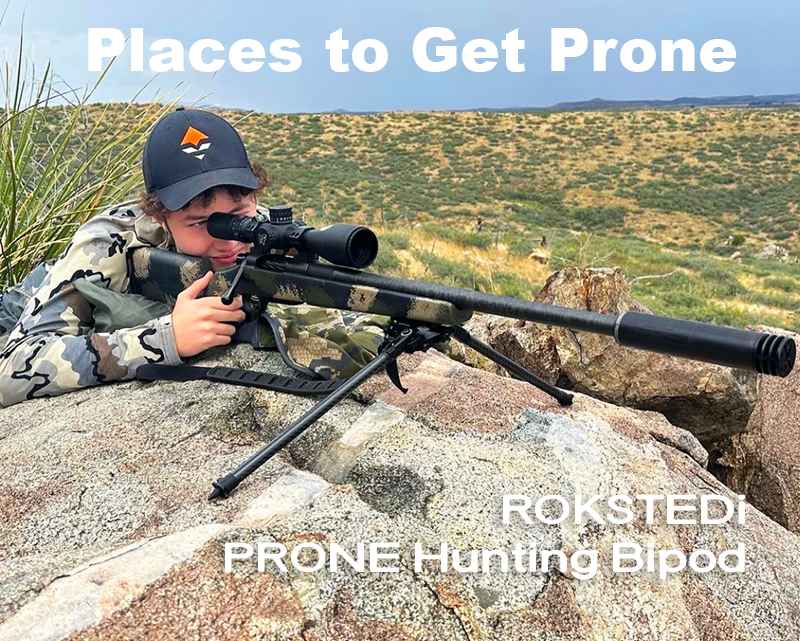 Keeping your body relaxed while sprawled out in a hunting situation is mandatory.   You may be behind the gun for several minutes or even hours waiting for the animal to present a shot. Uphill shots require more height out of your prone bipod while downhill requires less.  A prone hunting bipod needs to have a minimum max height of 13″.   It's highly recommend to set your prone bipod to the most comfortable position possible before pressing the trigger.
Loading your bipod is a term you need to understand for long range prone scenarios. Loading is simply putting light forward pressure into your bipod from the rear of the rifle. This simply takes the slack out of your bipod & allows for the rifle to recoil on a more natural plane. If your bipod feet slide or bounce forward when you load your bipod, you typcially can't get as comfortable & stable.  You also run the risk of the bipod feet catching or bouncing therefore causing muzzle jump.
The best ROKSTEDi prone hunting bipod for you?
If you are looking for the lightest prone bipod option the PRONE Hunting Bipod comes in at just 12.9 oz! It has a height range of 7-14" with one static leg section & all the ROKSTEDi bipod functions. It also comes with aluminum spiked feet w/ rubber cover options.  The PRONE Hunting Bipod can convert into our most popular model the P234 with the purchase of lower leg sections.
The S-PRONE Bipod is our most compact bipod. It has a height range of 5.5"-13.5" at a weight of 14.6 oz. It has all the ROKSTEDi bipod functions, including the GEN2 internal leg locks. If you only want a prone bipod for hunting, The S-PRONE Bipod is as pure as it gets!